Vanessa Van Edwards – People School Science of People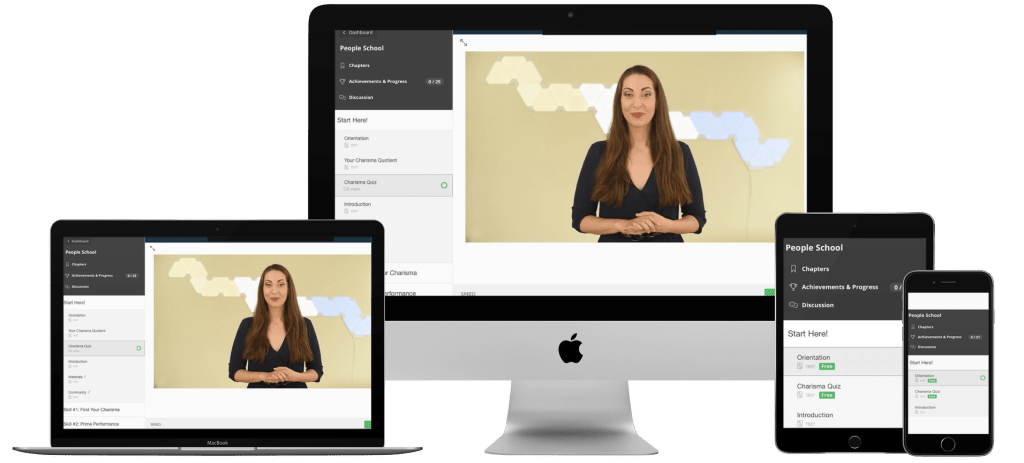 Description
Here's what you'll learn in People School:
12 Advanced Skills. 12 Powerful Secrets.
Skill 1: The Charisma Formula
Never get lost in a room full of people and know how to leave people asking about you (and remembering you) long after you've left.
Skill 2: Prime Your Performance
Get the results you want from your interactions — every time — without being inauthentic, manipulative, or slimy.
Skill 3: Become Engaging
Send signals that you can be both capable and friendly and keep people interested and energized in conversation.
Skill 4: Capture Attention
Start interesting conversations, keep them going, and pitch your ideas in a way that leaves people curious and excited.
Skill 5: Build Trust
Rapidly build trust and mutual rapport for lasting and meaningful relationships.
Skill 6: Harness Power
Be taken seriously, interrupted less, and command authority and respect.
Skill 7: The Likeability Blueprint
Use the likability blueprint to be more socially successful.
Skill 8: Decode People
Speed-read people's intentions and interests so you can eliminate confusion, remove doubts, and connect more deeply with anyone.
Skill 9: Capitalize On Your Conversations and Relationships
Move beyond small talk to create powerful connections and never run out of things to say.
Skill 10: Assert Yourself
Develop social assertiveness and get what you need and want out of interactions.
Skill 11: Increase Your Influence
Lead with authority and authenticity and get your ideas adopted.
Skill 12: Strengthen Connections
Become indispensable at work and thrive on your team.
Course Overview
How many of these statements sound like you?
You have great ideas, but have trouble getting them adopted. (And the typical elevator pitch makes your skin crawl!)
You know you're incredibly talented, but dread asking for a raise, raising your rates or negotiating for what you know you deserve.
You have trouble saying no — to events that drain you, to social obligations and to toxic people.
You are often under-appreciated for your hard work because you don't always know how to showcase your strengths.
You want a strong network with high quality contacts without having to go to a networking event every single night of the week (or be a smarmy salesman).
You want to have influence without being inauthentic.
You've already achieved a certain degree of success, but you know you can do much more. Now you're ready for the next level, but aren't sure what steps to take next. (This doesn't mean you aren't busy! In fact, your to do list is jam packed, but your 5 year plan is worryingly ambiguous.)
If this sounds like you, I want to help.
Here's the problem: Most of us have not been given all the communication tools we need to succeed. We learned technical skills and job skills in school but were barely given any communication skills training. No matter how talented you are, you cannot succeed if you can't interview effectively, negotiate your worth, or be indispensable on a team.
I want you to be recognized for your talents. I want to get your ideas heard. I want you to be paid what you deserve. To do this, I have created the ultimate people skills training. People School will teach you all the soft skills you were never taught in school.
My goal is to give you a foundation for effective communication you can use for the rest of your life to help you achieve your mission, up your impact, and share your ideas with the world.
Is People School right for you?
After working with thousands of students, we've learned a lot about who can truly benefit from People School.
People School is right for you if:
You're driven to get more out of life and want the one universal skill that will help you, regardless of where your future takes you.
You want to strategically improve your communication, relationships, and the way you're perceived — and you're willing to spend 1-2 hours a week to get there.
You've tried improving your communication in the past and are ready to accelerate the process by getting help.
You're willing to try new things and expand your comfort zone.
You're tired of just getting information and want a plan for implementing things so you can truly change.
People School is NOT for you if:
You want to learn how to manipulate people: We teach you how to be the best, most authentic version of yourself when you communicate, not how to play mind games with other people. If you're here to learn how to "trick" people, you're going to be sorely disappointed.
You want a "quick fix": Every skill we teach, we leave time and space to turn it into an actionable part of your People Development Plan — your personal step-by-step plan for applying the knowledge. But it only works if you do the work. If you aren't willing to do the work to make a lasting change, please don't join. We want to work with committed students.
You aren't willing to commit 1-3 hours a week: The course gives you lifelong access and you can take it at your own speed, that said, we recommend spending an hour or two a week on it until you're done.
How People School Changes Your Life
Get more clients and sales
Access more opportunities
Get promoted
Be unforgettable
Get more time and attention from stakeholders
Be seen as a trusted leader in your field
Get access to more opportunities
Better understand yourself and others
Get your ideas heard
Decrease your stress and anxiety
Be seen as the leader you are
Stop being overlooked or underestimated
Start being recognized for your efforts
Improve your relationships
Get invited to social gatherings
Enjoy more of the good stuff in life!
Here's What You Get Today:
Join People School and you get:
IMMEDIATE 100% Virtual Access to People School from anywhere in the world, anytime you want. Go at your own pace and never lose access. If you have an upcoming presentation three years from now, you can rewatch the videos and use the workbook again and again to refresh your skills.
The 12 Core Skills for Interpersonal Communication: Learn the 12 skills that the most effective communicators, most influential leaders, and highest performers use to reach success. Packed with fascinating research, real-life case studies, and helpful exercises, and skill challenges to activate your new knowledge, you are about to become UNSTOPPABLE.
BONUS PEOPLE SCHOOL SIGNUP:
Bonus #1: 12 months LIVE training workshop with Vanessa ($588 Value)
Bonus #2: Email Concierge ($349 Value)
Bonus #3: Ready For Anything – Knowledge Library ($497 Value)
Bonus #4: Swag Box! ($50 Value)
About the Author
Vanessa is Lead Investigator at Science of People. She is the bestselling author of Captivate: The Science of Succeeding with People, translated into 16 languages, and Cues: Master the Secret Language of Charismatic Communication. More than 50 million people watch her engaging YouTube tutorials and TEDx Talk.
Vanessa shares tangible skills to improve interpersonal communication and leadership, including her insights on how people work. She's developed a science-based framework for understanding different personalities to improve our EQ and help us communicate with colleagues, clients, and customers.
More courses from the same author: Vanessa Van Edwards
Salepage: Vanessa Van Edwards – People School Science of People
Proof: