Marty Marion – Master Positioning 2019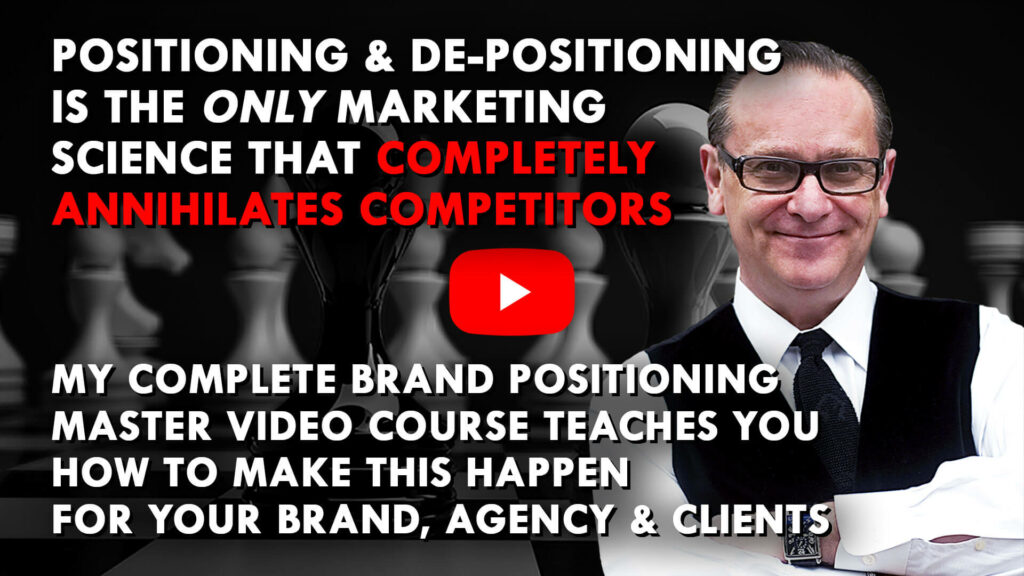 You'll Learn To Create Higher Converting Ads at Lower Costs and Higher ROAS Than Ever Before:
Using Positioning Science, your ad headlines, content, images, calls-to-action and all message touch-points will reach deeper into the mind of your most highly qualified targets and actually compel them to take the actions you need them to take.
This reduces CPC (often by huge margins) and increases both CTR and conversions dramatically. The benefits run from Top-of-Funnel right through conversion.
You'll See Insane Increases in Search Ranking, CTR & Conversion Rates:
I'll teach you how to strongly and immediately reinforce and drive home your positioning AND de-positioning from search through the moment your targets hit your site or lander, and your conversion rates will absolutely increase.
When conversion rates increase, cost of acquisition goes down, AOV goes up, and you start the 'stimulation' and 'retention' phases much more quickly, increasing LTV significantly.
You'll Close Higher Value Clients More Quickly Than Ever Before:
You'll learn how to create your own Category Class to quickly establish that YOUR agency, brand, products or services will ABSOLUTELY solve your targets' needs, resolve their pain points, and fulfill their desires… AND that your competitors can't.
You'll learn the most serious strategies and tactics to leave your competitors in the dust.
MASTER COURSE CURRICULUM AND PROGRAM DETAILS:
Lesson 1: The Core of Positioning & De-Positioning
Lesson 2: The Positioning Platform
Lesson 3: The Positioning Matrix™
Lesson 4: Category Classes, Why They Always Win, How to Create Yours
Lesson 5: 'Brand' vs 'Branding'; Competitor vs Competition (Yes, They Are Different!)
Lesson 6: Doubt And Dissatisfaction – The Two Critical Movers, How to Create Them
Lesson 7: Brand Positioning Ladders and the Variance of Positioning Influence
Lesson 8: Brand and Positioning Traps You Are Making; How to Avoid Them; How to Fix Them
Lesson 9: Controlling The Decision-Making Process – Part 1
Lesson 10: Controlling The Decision-Making Process – Part 2
Lesson 11: Controlling Perceptions, Beliefs and Interrupts
Lesson 12: The Positioning Venn Systems
Lesson 13: Positioning in Advertising and for Agencies
Lesson 14: Marty's Private Client Positioning Workflow
Lesson 15: Ultra Advanced Positioning and De-Positioning Tactics
Lesson 16: Segmentation To Increase Conversion, Stimulation and Retention
Lesson 17: Positioning and The Acquisition Phase
Lesson 18: Positioning and The Conversion Phase
Lesson 19: Positioning and The Stimulation Phase
Lesson 20: Positioning and The Retention Phase
Lesson 21 through 24: The Weaponization of Marketing and Advertising
More courses from the same author: Marty Marion
Salepage: Marty Marion – Master Positioning 2019