Kelvin Dorsey – The Maverick's Email Playbook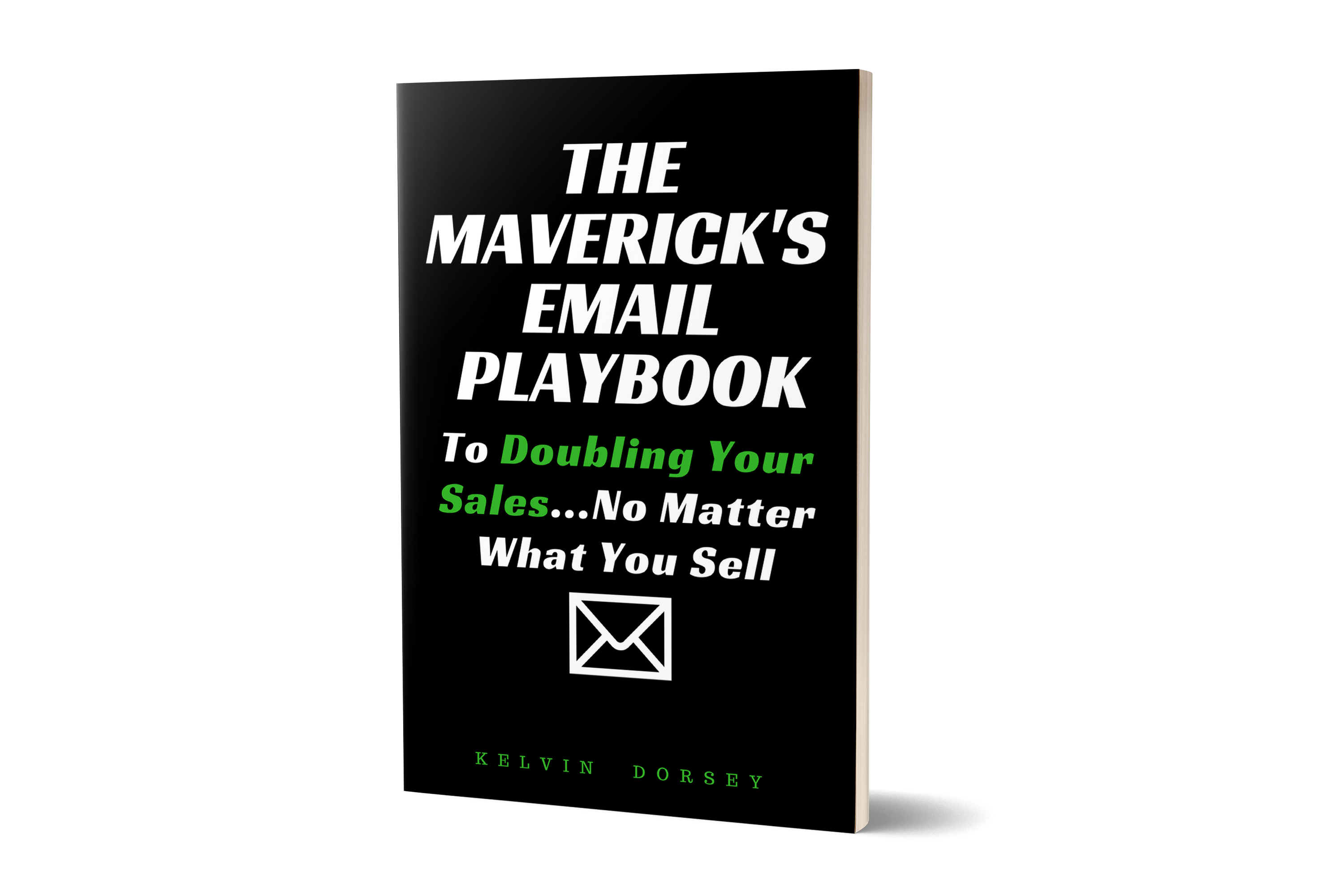 The Maverick's "Email Playbook" To Doubling Your Sales…No Matter What You Sell
"I don't care if you're selling sticks of gum or million dollar properties…
..This Playbook has within it the secrets to (at least) double your current results."
Dear friend and subscriber,
Let me start off with an observation:
Most email marketing exp-hurts are completely clueless about how to make sales with email.
They are like the guy who knows 365 sexual positions…
But Can't Get a Date on Friday Night!
And it's no wonder.
I mean, have you read some of those email marketing books?
They cover everything but the one thing that really matters – Salesmanship.
Look, let me make something very clear:
With email marketing, if 100 equals success, then..
99.9% of That Success is Getting The Sale.
That's right, it's getting your subscribers to take the action you want them to take – and have them love doing it!
Whether that means hiring your services, buying your product, or showing up at your store.
Now listen:
Do Not Buy This Playbook If:
You're wanting to know which email service provider to use, how to setup an autoresponder, what email segmentation is, how to set up email analytics and tracking or what email design to use.
Look, you can easily find the answers to those questions with a quick Google search.
You see, the REAL question you should be asking yourself is this:
How Can I Sell My Product or Service With Email?
And that, my friend, is exactly what I answer in this Playbook
I'm going to reveal everything I know about how to write profit making emails.
Including, all my special "dirty tricks" (some are brain dead simple, some will stretch you)
Yup, I truly spill the beans.
I give you my exact methodology, written in plain English, in a step-by-step manner.
I hold nothing back.
And, I guarantee 99% of your competition are completely oblivious to the secrets revealed in this playbook.
I don't share these secrets in any of my books, or emails or on my website.
Now, if you go to my Amazon Author page, you can read all the rave reviews from folks who say that I give a ton of value away in my books.
But truth be told:
What I give away in my books is just the tip (10%) of the iceberg. This Playbook reveals the ice mountain (90%) that's hidden underwater .
But enough already.
I bet you just wanna know what's inside this Playbook, right?
Well, Here's Just a Few of The Uncensored Money- Making-Secrets Unleashed Inside:
The 5 qualities that will make you (and your emails) influential, persuasive and charismatic. (People subconsciously seek out these qualities in others. If you display just one or two of these qualities, you'll be incredibly persuasive – but all five…people become putty in your hands!)
How to avoid sounding like your competition and becoming a "me too" business. (Do this and you'll NEVER have to compete on price or rely on sales techniques or tricks.)
Ernest Hemingway's secret to winning over readers
12 absolutely essential "marketing and sales" principles you must know before you attempt to sell anything to anyone. (These 12 marketing secrets will put you light-years ahead of the average business owner who claims advertising doesn't work.)
Abraham Lincoln's secret to winning someone to your way of thinking. (And how to apply this secret to all your emails.)
The "Trojan horse" method for blatantly pitching your product or service and have your subscribers thank you for it! (This is hands down the best way to deliver your sales pitch.)
A proven "copywriting secret" that turns a subscriber's "mild interest" in your product or service into a white-hot fever pitch!
A clever way to come up with witty, clever and humorous sayings. (This is the closest thing you will ever have to possessing an actual rapier-like wit. Just follow the steps provided inside and…voila!)
The incredible "marketing secret" of a man who lost his mind and committed murder in a New York bar. (How the competing New York newspapers covered this tragic news story reveals one of the most powerful marketing lessons ever.)
A proven (and powerful) way to get subscribers who, at first, don't give a crap about you or your product or service, to care very much!
"Sales secrets" from one of the world's most recognized and successful negotiators. This man coached negotiations worth billions for multinationals, governments and world leaders. (Inside, I give you a transcript of this man's most insightful interview he ever gave. This is gold!)
Little-known ways to write subject lines and email copy that's "neurologically impossible" to ignore.
A surprisingly simple (and sneaky) way to plant ideas in your subscriber's minds so subtly they'll think they came up with the ideas themselves.
Warren Buffet's simple (but powerful) "persuasion secret" he uses in nearly all his monthly Berkshire Shareholder newsletters. (If you struggle to get your subscribers to believe all your claims and promises, simply do this…)
Exact word-for-word samples of sales letters that dragged in millions, and how to adapt them to your unique situation. (I seriously thought about selling this little swipe file separately. Maybe I will one day. The point is: It's incredibly valuable.)
The little-known "beers at a bar" sales pitch.
And a lot lot more.
More courses from the same author: Kelvin Dorsey
Salepage: Kelvin Dorsey – The Maverick's Email Playbook
Proof: