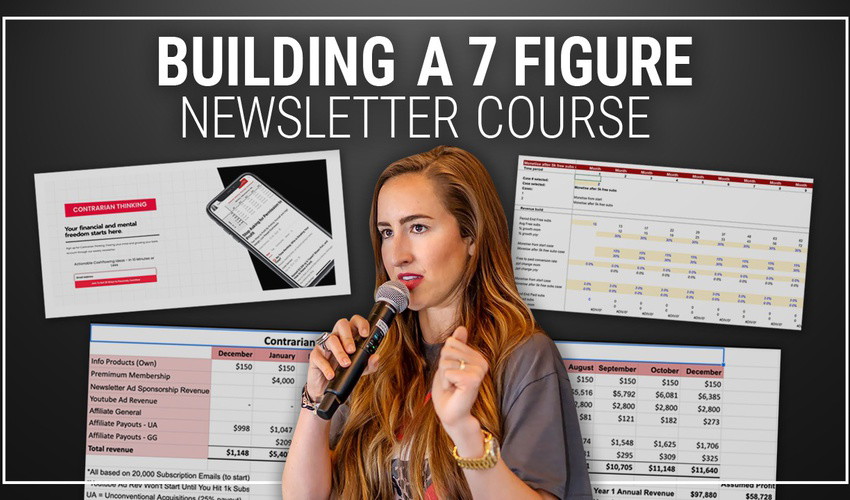 7 Figure Newsletters – From Zero To Over $100K Monthly With Free Traffic Information
How do you launch a newsletter that makes 7 figures in 12 months? That's a great question.
When we launched Contrarian Thinking, it grew from 0 to 100k+ subs, then ​had 4, then 5, then 6 figure months, but we really had NO IDEA what we were doing.
The whole time I wished there was a resource where I could follow in others' paths. But there were none.
TL;DR
Grow your audience and grow your business with the marketing flywheel
Add multiple new streams of revenue
Take advantage of case study style learning and exact instructions
8 modules, 40+ lessons, 5 interactive videos, and editable financial templates
Here's what you'll get in 7 Figure Newsletters – From Zero To Over $100K Monthly With Free Traffic
Learn how to build wealth, create influence, and impact others through a newsletter and email list.
You Might Be Thinking…
I'm not sure if I can do this? Is it worth it to focus on newsletter growth? Why don't I just go start and do this myself? Does this matter if I'm in a SaaS business? I'm not a good enough writer.
Excuses! None of those should stop you.
Anyone with this playbook and dedication can turn their business, their brain and a newsletter into a profitable thriving business.
What's Included?
Everything we wish we knew when we originally launched Contrarian Thinking. Our goal is to give you an entire playbook that will get YOU to your 100's of thousands of subscribers and millions in revenue.
PLUS – we will update it based on your feedback and questions. We've already done this…
It's an absolute steal at $139 just for you.
Inside is:
8 Step by Step Modules
40+ Detailed Chapters
5+ Videos & Hours of Tailored Content
Interviews from Newsletter Creators of 20k to 100k+
Business Models, Financial Models, Tech Stack, Scripts, Templates & Guides
Our Internal Memos, Notes on What Worked and Didn't & Analytics Pages
With the course you'll be able to:
Add add'l rev streams
Drive more traffic to your business
Create more influence through awareness
Capitalize on the power of a content flywheel
Learn from some of the top minds in the creator space on how to expand your reach and create additional revenue streams with newsletters.
Don't recreate the wheel, steal the entire playbook by taking the 7 Figure Newsletter Course.
About Codie Sanchez
Codie is the founder and CEO of Contrarian Thinking, with over 1.5+ million subscribers. She is the co-founder of Unconventional Acquisitions, focused on small business acquisitions in the micro-PE space with an emphasis on roll-ups. She runs a holding company of SMB's below $10M EBITDA focused upon what she calls "boring businesses," or service-based businesses. She is a former partner at private equity firm EEC, and built First Trust's $1 billion+ AUM Latin America business. She held leadership positions at Goldman Sachs, State Street, and Vanguard.
She started as a journalist where she won the JFK award and Howard Buffett Foundation. She was listed as a 25 Most Innovative Leader in Cannabis, and a Top Female Investor by Forbes. She has an M.B.A. from Georgetown University, a master's from ESADE and Fundação Getúlio Vargas, and a B.A. from Arizona State University. She sits on the board of Permian Capital Hedge Fund, and Magma Partners Chilean Venture Fund.
More courses from the same author: Codie Sanchez
Salepage: 7 Figure Newsletters – From Zero To Over $100K Monthly With Free Traffic – Codie Sanchez
Proof: